Trained BusinessWomen in Kigali are ready to boost their businesses Online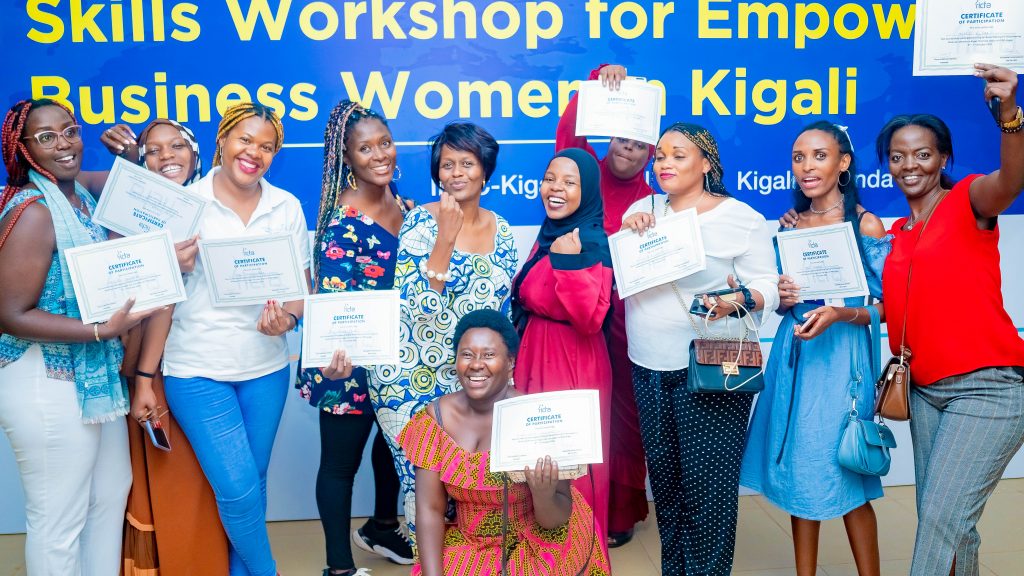 A hundred and thirty six trained businesswomen are grateful for the skills learned and digital tools provided including free business websites to help them establish and grow their businesses online. 
This comes following a 3-day digital skills training that started from 5th -7th October 2022. The workshop was organized by RICTA in partnership with GIZ and was closed with the awarding of certificates to the 136 participants. The training aimed at providing business women in Kigali essential digital literacy skills to help them leverage the Internet in promoting their business online.
WIth the help of field experts, the training prioritized DIY (do it yourself) knowledge ensuring the participating women are enabled to navigate the Internet and promote their businesses by themselves making optimum use of free digital means they already possess. They were trained on how to use social media platforms like facebook, instagram, and twitter as well as an appropriate way to develop contents they shall be disseminating across. 
Pascaline as one among the trained businesswomen testifies that this was a kind of skill she was so enthusiastic about because she could see her colleagues' social media marketing working for them but lacked the knowledge on where to start and how she can also do it. Thanks to the training and website provided as this will help me to professionalize and digitize my restaurant operation's where people will for instance start ordering foods online, she added.
Grace Iraguha who has also completed the training asserts that she has gained skills that are going to help her promote her cake bakery business and is fully confident that the knowledge gained will definitely boost her clientele. She commends the training organizing bodies and recommends an extension of the program to the rest of women nationwide..  
Our CEO Grace Ingabire greatly appreciated women's efforts to attend the training and the fact of putting on-hold their daily endeavors to make time for this learning that will facilitate them to modernize their business.''We are willing to extend this initiative to reach the large number of women and we thank GIZ as the sponsor who have played a precious role to make this happen'', She added.